Our Resort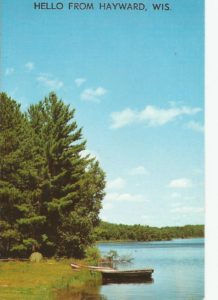 Cresthill Resort began in 1945 when Robert and Lydia Stewart bought the property from Fred and Helen Kasdorf.  Cabins were built in 1945 and vacationers began arriving in 1947. The cabins rented for $25 a week which included a fishing boat.  Cam Brua bought the resort in 1989 and included rental of the Manor House into the mix of cabins.  Kay and Scott Wilson began the joy of resort living in 1995. The resort now includes a fully equipped three bedroom house as well as five deluxe two bedroom cabins and a one bedroom condo. The cottages have ramps and screened porches overlooking the lake. Wireless 8-25mb/s internet is available on site.
Cresthill Resort is the doorway to a year round recreation area. The area is home to:
Here you can quiet water canoe or kayak, roller ski or roller blade and bicycle on lightly used smooth black-top roads.
Lightly traveled roads are great for roller skiing and biking.  Mountain bike on the 300 mile Chequamegon Area Mountain Bike Association trails – ride just 15 minutes to the Hayward cluster. Cross country ski out the door on the lake or travel a short distance to the Birkie Trail at Fish Hatchery, Birkie Trail head or "OO", Hospital, North End, Rock Lake and Mukwonago ski trails are just 20 minutes away. There is a warming hut, water and parking at all the Birkie feed stations.